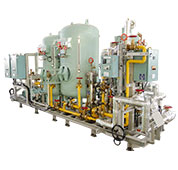 Fresh Water Supply Unit
Simple Construction | Easy Installation | Easy Maintenance | Easy Operation
The fresh water supply unit supplies fresh , warm and cold drinking water for the crew and It consists of technical system of Sterilizer, Hydrophore tank, Calorifier, Re-hardening filter(mineralizer) and pumps.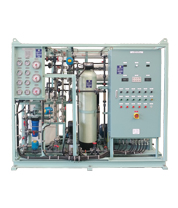 Fresh Water Generator(RO TYPE)
Reverse Osmosis most commonly known for its use in drinking water purification from seawater, removing the salt and other substances. Reverse Osmosis is the process of forcing a solvent through a membrane from a region of high solute concentration to a region of low solute concentration by applying a pressure in excess of the osmotic pressure. In the past, Evaporation type Fresh water generator were used a lot, but these days Reverse Osmosis type Fresh water generator are more common.We offer you package system which consist of Fresh water generator (Evaporation type or RO type) & Fresh water supply system.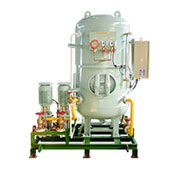 Hydrophore Tank
Capacity : 100 ~ 5,000L/hr
The purpose of Hydrohpore thank is to store fresh water and maintain its pressure.The Hydrophore tank is commonly made by Carbon steel, and the inside is coated with a harmless coating of paint. In addition the manhole of each tank keeps the inside clean. Non-Destructive Test is done for all welding points to secure safety. ( Hydrophore tank can be made by Stainless Steel as well).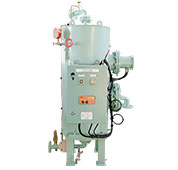 Hot Water Calorifier
Capacity : 50 ~ 3,000L/hr
Hot Water Calorifier is designed to proper in environmental conditions of the vessel, and supply hot water. Setting temperature is automatically maintained by Steam heater (or Electric heater). Supplied hot water is used for shower, cooking, and feeding.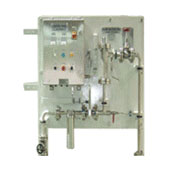 Silver Ion Sterilizer
Capacity : 1,000 ~ 30,000L/hr
Silver Ion sterilizer is based on a well-proven ion sterilizer method. Silver Ion sterilizer is an ideal sterilizer that lasts long and can be used without changing the taste, smell and color.
UV Sterilizer
Capacity : 1,000 ~ 30,000L/hr
The UV sterilizer is one of the most representative items of Samkun Century. It has superiority of operating system which protects mineral components, and releases the most efficient ultraviolet wavelengths (253.7nm) to remove typical viruses, colitis germs, bacteria in water.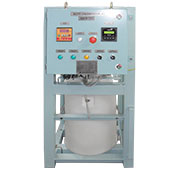 Auto Chlorinator(Sterilizer) with DE-Chlorinator
Capacity : 1,000 ~ 50,000L/hr
Auto Chlorinator is one of many ways that can be used to disinfect water. It sterilizes water using chemical additives containing chlorine.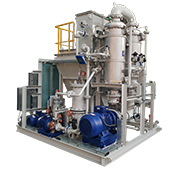 Wastewater Treatment Unit For Scrubber
It is Wastewater Treatment unit for Scrubber in Close mode or Hybrid mode for ships, and it purifies the waste water and resupply or discharge it out of ship (to meet the outboard discharge criteria). Our system is Membrane type which is very compact and easy to operate.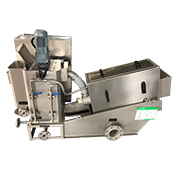 Dehydrator
The multy plates is pressurized with screw, which is very compact compared to existing dehydrator, and power consumption is low, so operating cost can be saved. The automatic washing function enables continuous operation 24 hours a day without blockage and can be applied to various wastewater treatment.(Water, Food, Medicine, Dyeing, Detergents, Chemicals, Pharmaceutical industry)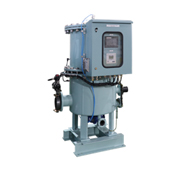 MGPS with Strainer (Filter)
Marine Growth Preventing System(MGPS) is an anti-breeding device for marine life, and prevents marine life as a barnacle or shellfish by electric current applied to copper and aluminum electrode rods. Our MGPS is integrated with Strainer, so it is designed to be compact, providing maximum effect in minimal space.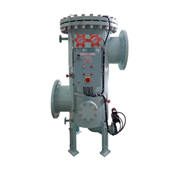 AutoFilter (Sea water, Fresh water)
Our AutoFilter is pre-treatment filter system with automatic backwash. It consists of several Filter elements on a rotating plate with a drive shaft. Differential pressure is detected automatically and each filter element is back-washed without interruption of filtration process.Mainly it is used for pre-treatment of Seawater Cooling pipe line and BWTS in field of Marine, and also used for pre-treatment of Seawater Cooling pipe line in field of onshore plant.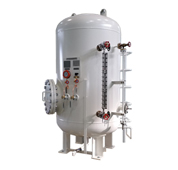 Pressure Vessel
Based on our own design and production technology, we supply various Pressure Vessel in fi various fields, including Marine Shipbuilding, Offshore plant, Power Plant, and Refinery Plant.
WATER SOFTENER
Water softening is the removal of calcium, magnesium, and certain other metal cations in hard water. Soft water extends the lifetime of plumbing(pipes) by reducing or eliminating scale build-up in pipes and fittings, and extends efficiency of heat exchanger. Water softening is usually achieved using lime softening or ion-exchange resins.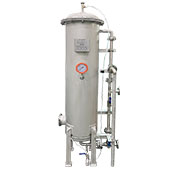 DE-IONIZER (DEMINERALIZATION UNIT)
Capacity : : 1,000 ~ 50,000L/ Hour
DE-IONIZER(Demineralization) is essentially removing all the minerals that can be found in water. This process is usually done when the water will be used for chemical processes and the minerals present may interfere with the other chemicals. The device can be widely used in various industries, and is useful for boiler feed water treatment in ships. Devices that perform similar functions include ION EXCHANGER, MIXED BED POLISHER(MBP).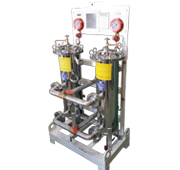 PURE WATER UNIT
"Pure Water Unit" can eliminate both positive and negative ions from raw water by utilizing ion exchange resins and ERD. It makes to lower TDS of raw water and produce highly purified water in conclusion. According to the condition of raw water and treated water, we can meet various water qualities that customers required.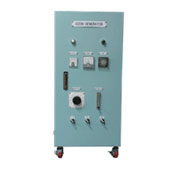 Ozone Disinfector(Sterilizer)
Ozone is highly sterilizable gas that can destroy bacteria and viruses. The principle is that Oxygen molecules(O2) colliding with Oxygen atoms to produce Ozone(O3). One of the main advantages is that no other by-products are created after sterilization.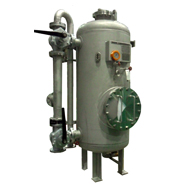 Re-Hardening Filter(Mineralizer)
Capacity :1,000 ~ 30,000L/hr
The water which is generated by fresh water generator in vessel, cannot be used by drinking water directly, because of pH value, hardness, and none of mineral component. By using Rehardening filter(Mineralizer) , hardness, pH value, and mineral content are treated to be used drinking water. To maintain the function of Rehardening filter(Minerlizer), the Dolomite & re-hardening material are regularly replaced, If pH value is lower than 6.5, the replacement is required.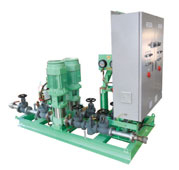 Hydrophore system of VFD(Variable Frequency drive)
A specific type of hydrophore system is needed for the efficiency of maintenance and saving energy.
Most conventional hydrophore tanks is too heavy and occupies too much space.
A VFD system is used to control process flow without the use of a separate controller.
Suitable sensors and electronics are used to interface the driven equipment with the VFD.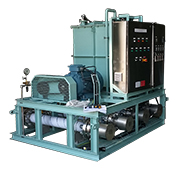 High Pressure Washing Pump Unit
High Pressure Washing Pump unit is washing machine for Deck and Tank by using over 160bar high pressure. It consists of HP pump, Tank and Spray Gun etc. If the self closing type connector is installed where cleaning is reqired from the vessel, It can operate in the desired area through a transportable hose reel.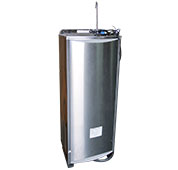 Drinking Water Fountain
▷ Floor stand type | ▷ Wall mount type | ▷ Cold water fountain | ▷ Hot & Cold water fountain
The Drinking water fountain is composed of a cooling system and silver ion carbon filter. For use on ships, it is made from a durable stainless steel case, and silver ion carbon filter improves sterilization and provides a good taste of drinking water for crews.
Hot Water Boiler
Capacity : 10L Wall mount type
The Hot Water boiler is heating water with electric heater to supply water to a constant temperature of 90~100 °C . It is mainly used in the galley.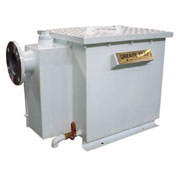 Grease Trap
Capacity : 20GPM
"Grease" is an industrial term for animal fats and vegetable oils from waste water in the kitchen. Specific gravity of Grease is 10~15% below water, so Grease doesn't mix with water. The Grease Trap is an essential component of sewage pipes designed to separates the grease from water.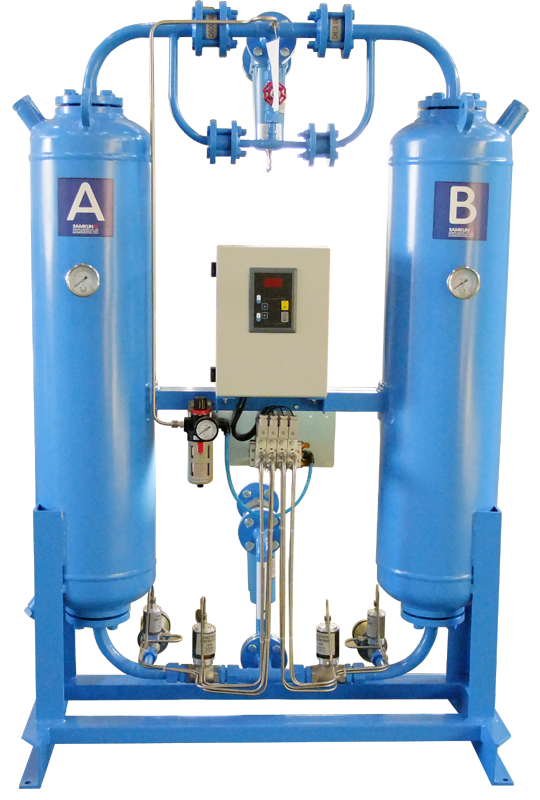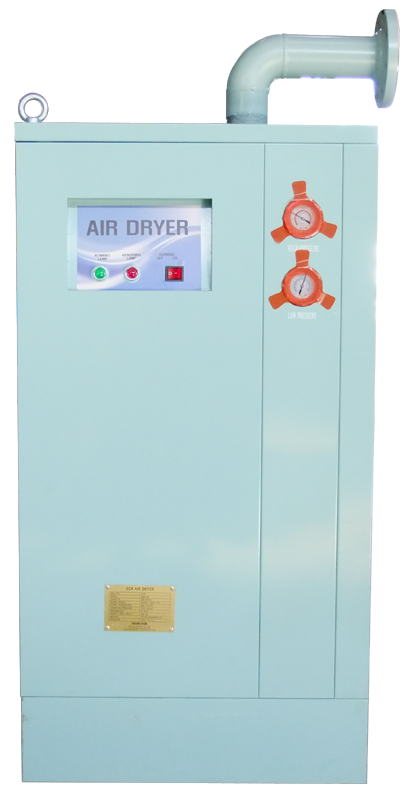 Compressed Air Dryer
AIR DRYER (HEATLESS TYPE) | REFRIGERATED AIR DRYER
If contaminants (water, oil, dust, etc) are supplied inappropriately in the compressed air, it has bad effect on operation, reliability and durability. Therefore, the quality of compressed air should be treated and supplied in accordance with the purpose and function of the system. Samkun Century's compressed Air dryer system removes moisture, dust, and oil pollutants contained in compressed air, and provide the optimum compressed air.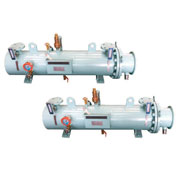 Heater
LO PRE-HEATER : It is used for lubricating oil heater and lubricating oil purifiers. This device keeps viscosity appropriate for starting the engine by heating engine lubricant to a certain temperature during an engine stop. FO PRE-HEATER : It heats the bunker C, which is widely used as a fuel oil for ship, for normal combustion. M/E JACKET PRE-HEATER : If the engine is stopped due to anchorage or repair, the device heats cooling water in the water jacket to prevent any problems caused by reduction of cooling water temperature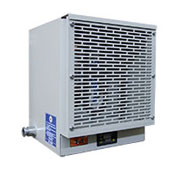 Fan Heater
The Fan heater dissipates heat generated by the electric heater through the fan. Fan heater is easy for installation in a space without the heating system, and it is useful in laundry drying room, wheelhouse, and toilet in ships.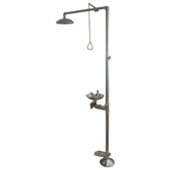 Emergency Eye Wash & Shower
The Emergency eye wash & shower is essential equipment when using chemicals and hazardous substances.
Its purpose is to reduce workplace injury and keep workers away from various dangers.

▷ Durable - Excellent raw material / Anti corrosion
▷ Reliable - High quality
▷ Easy Installation

OZONE GENERATOR
An ozone generator is placed inside a foodstuff storage(Vegetable etc) in ships, Ozone is especially efficient in prolonging the life of food materials.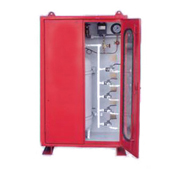 EMERGENCY SHUT-OFF VALVE SYSTEM
QUICK CLOSING VALVE SYSTEM)
A device that allows you to quickly and remotely close the fuel line and the valves in the tank in case of an emergency, such as a fire.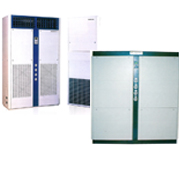 HVAC
Air-conditioning and heating system | Anti-temperature and anti-humidifier
Air-conditioning and heating system : As the industrial environment is getting complex and diverse, the work environment is getting vulnerable. With innovative environmental control system, we have provided the most ideal environment for user. All products have been supplied as power saving type so that we have contributed to an ideal cooperative society, sharing the pleasant and abundant environment.
Anti-temperature and anti-humidifier : Thermo-hygrostat for data processing room and all kinds of industries is the most suitable facility for the special HVAC System in modern society based on the specialization of industrial structure and diversification. With superior performance, we have increased the productivity and produced products from 3R/T to 30R/T compatible with every indoor condition.