Press release about Samkun Century on GREEN & OFFSHORE KOREA 2022 exhi…
페이지 정보
NAME

삼건세기

DATE 22-10-18 09:51
본문
Extract AVING news press release on 12th Oct. 2022
​
Samkun Century, announcing the water treatment system at the GREEN & OFFSHORE KOREA 2022 exhibition,
"Providing clean drinking water!"
​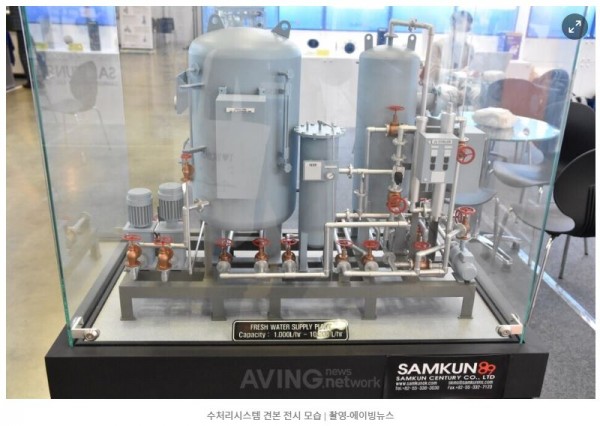 Samkun Century participated in '2022 GREEN & OFFSHORE KOREA 2022' held in BEXCO, Busan for 3days from October 12 to 14 and introduced a water treatment system.
The Fresh Water Supply Unit, a water treatment system introduced at this exhibition, supplies fresh, warm and cold drinking water for the crew. It consists of technical system of Sterilizer, Hydrophore tank, Calorifier, Re-hardening filter(mineralizer) and pumps.
It contains auto filter can automatically backwash fresh water made by fresh water generator. And it has filters that are easy to replace for rehardening filter, UV sterilizer. Also an energy-saving hydrophore tank and Samkun Century's proprietary PE inner coating pipes are applied.
Also Samkun Century develops LNG & LPG cryogenic insulation. Compared with polyurethane foam that is applied same industry, Samkun Century developed the product is thinner but increasing thermal conduction efficiency. This product makes 30% lower price on material, construction and improves production progress.
Development about Samkun Century's Aeropoly is completed. It can be applied LNG & LPG liquid/vaporizer pipe line and tank spray. It is under construction in various fields for various customers. Aeropoly applies aerogel that has lower thermal conductivity than urethane foam on 1st layer. So it can make thinner insulation.